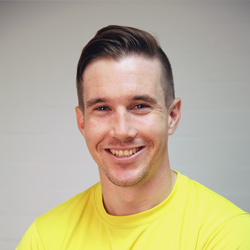 "Never hope for it more than you work for it! After years of playing, watching and working with sport I've realised that things don't just work out, and injuries don't get better by themselves. Those that seek advice, treatment and work hard in rehab always get the best results. As a physiotherapist, I adapt and individualise my treatment for all types of patients, and work hard to have them up and running better than ever!"
Experience and Qualifications:
MSc Physiotherapy HCPC, MCSP, APA
BSc (Exercise and Sports Science)
Worked with a variety of sports team's at national level competitions including Hockey, Rugby, Australian Rules football and Netball.
Southern Districts Rugby Team Physio (Australia)
Assessment and treatment across a range of musculoskeletal, orthopaedic and chronic pain patients
Biomechanics/ergonomics assessment of work stations and movement patterns
Pre and Post-operative rehabilitation for joint replacement, sports/general trauma
Dry Needling/Taping/Exercise prescription